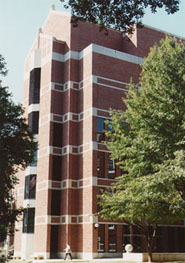 The Department of Neurology is located in the Johnson and Link Buildings, overlooking the Medical School's historic courtyard and Health Sciences Park. The facility houses state-of-the-art laboratories for Neurology, Neurosurgery, and Anatomy and Neurobiology. The Johnson, Link, and Wittenborg buildings form the nucleus of the Neuroscience Institute, which brings together over 50 faculty members from various disciplines and which receives competitive funding for research in excess of $7,000,000 each year. The UTHSC Library, conveniently located next door, includes among its many services Internet access to major basic and clinical neuroscience journals, and a comprehensive selection of books and journals devoted to the clinical and basic neurosciences. The Center for Neurosciences thus affords outstanding research and educational opportunities for students, residents and fellows training in the neurological sciences.
The Department of Neurology, the Health Science Center, and five of the University's affiliated hospitals are located within walking distance of each other. Baptist Memorial is located in East Memphis. This health complex comprises the major Medical Center serving the Mid-South, and draws from a state area 200 miles in radius containing approximately 2.5 million people. Clinical training in neurology takes place in these five hospitals within the Medical District.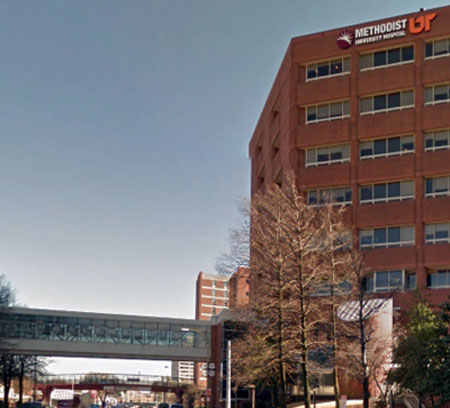 Methodist University Hospital
1265 Union Avenue
Memphis, TN 38104
(901) 516-7000

Methodist University Hospital (MUH) is a partnership of two healthcare leaders, Methodist Healthcare and the University of Tennessee Health Science Center (UTHSC). Located in the medical center and formerly known as Methodist Central, MUH is a 617-bed facility and the principal adult private teaching hospital for UTHSC. Methodist University Hospital provides real-world experiences of managing medical problems in an efficient and effective institution.
MUH and UTHSC bring together research, medicine, and innovation. This partnership supports multidisciplinary collaboration among doctors and clinical team members, leading to more advanced medical care for patients.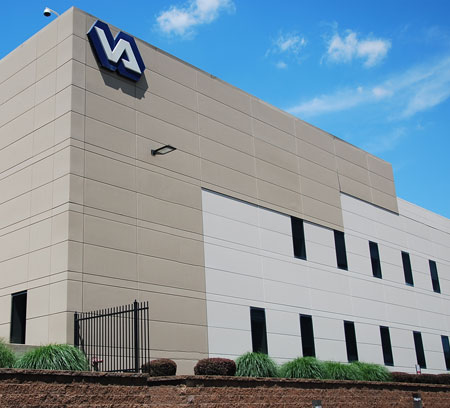 Memphis VA Medical Center
1030 Jefferson Avenue
Memphis, TN 38104
(901) 523-8990

Founded in 1922, the Memphis VA Medical Center (VAMC) is affiliated with the University of Tennessee Health Science Center and is one of UTHSC's primary adult teaching hospitals.  It offers quality healthcare for the changing medical, surgical, and quality of life needs of the Mid-South men and women who so proudly served our nation.
For the 196,000 veterans from 53 counties in western Tennessee, northern Mississippi, and northwest Arkansas, the VAMC offers a variety of services for both physical and mental health needs.  New programs include those for traumatic brain injuries, post-traumatic stress disorder (PTSD), and suicide prevention.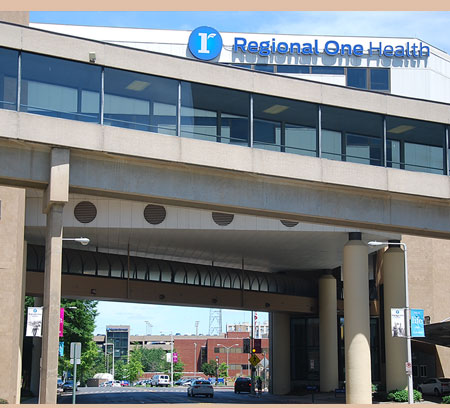 Regional One Health
877 Jefferson Avenue
Memphis, TN 38103
(901) 545-7100
Regional One Health (ROH) was established in 1829, making it the oldest health system in Tennessee.  In addition to being the home of the Elvis Presley Trauma Center, Regional One Health also includes Centers of Excellence in Burn, High-Risk Obstetrics, and Neonatal Intensive Care (NICU).  
ROH is the largest medical and surgical teaching site for the University of Tennessee Health Science Center.  More than half of Tennessee's doctors will receive some, if not all, training at ROH.  The partnership between Regional One Health and the University of Tennessee Health Science Center includes the UT Regional One Physicians group, the largest teaching physician group of its kind in the Mid-South.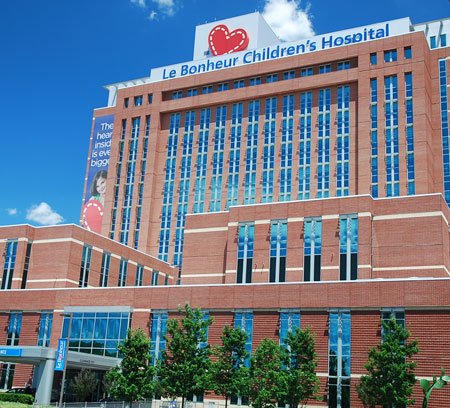 Le Bonheur Children's Hospital
848 Adams Ave
Memphis, TN 38103
(901) 287-5437

Founded in 1952, Le Bonheur Children's Hospital is an integral part of the Methodist Healthcare Family and a training site for many University of Tennessee Health Science Center residencies/fellowships. A new $340-million hospital building was built in December 2010 to accommodate the over 100,000 patients seen each year.
Named one of the nation's "Best Children's Hospitals" by U.S. News & World Report, Le Bonheur is the only Level 1 pediatric trauma center in the Mid-South.  Its neonatal intensive care unit (NICU) provides the highest level of care for the region's critically ill newborns.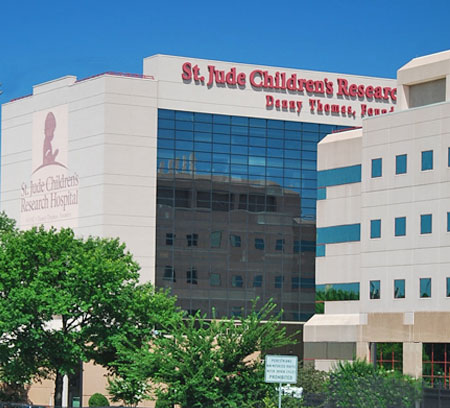 St. Jude Children's Hospital
262 Danny Thomas Place
Memphis, TN 38105
(866) 278-5833

St. Jude Children's Research Hospital, founded by actor Danny Thomas along with Lemuel Diggs and Anthony Abraham in 1962, started as a promise to St. Jude Thaddeus, the patron saint of the hopeless.  Thomas pledged to build a facility to treat ill children regardless of their race, color, creed, or their family's ability to pay.  St. Jude has become a premier pediatric treatment and research facility, focusing on children with aggressive cancers.  The hospital treats children from all over the United States as well as 70 other countries throughout the world.
In 2010, St. Jude Children's Research Hospital was named the number one children's cancer hospital by U.S. News & World Report.  In 1996, St. Jude doctor Peter C. Doherty, PhD was named the co-recipient of the Nobel Prize in Physiology or Medicine.  The hospital's Domestic Affiliates Program partners with other clinical sites to provide state-of-the-art care and clinical trials to children throughout the country.
Baptist Memorial Hospital
6019 Walnut Grove Rd.
Memphis, TN 38120
(901) 226-5000
Baptist Memorial Hospital (BMH) is a 706-bed, full-service private hospital.  The Memphis campus also houses the Restorative Care Hospital, the Baptist Memorial Hospital for Women, the Plaza Diagnostic Pavillion for outpatients, and the Baptist Heart Institute.  A dedicated, five-room pediatric emergency room is located in the Spence and Becky Wilson Baptist Children's Hospital, which is part of the BMH for Women.

BMH is one of Tennessee's busiest hospitals with 55,000 emergency department visits and 12,000 surgeries a year. A variety of subspecialty and ambulatory electives are available taught by volunteer faculty, many of whom have received teaching awards.
Baptist is one of the leading hospitals in North America for the number of neurosurgical procedures performed. The Neuroscience departments at Baptist are nationally and internationally recognized for providing high quality and comprehensive neuroscience services to patients, families and the community. Central nervous system disorders including head and spinal cord injuries, epilepsy, strokes, tumors, aneurysms and multiple sclerosis are diagnosed and treated by multispecialty teams.