Office of Graduate Medical Education
72 ACGME Programs20 Non-Standard Programs
3 Locations: Memphis, Jackson, and Nashville
The Board of Trustees of the University of Tennessee, The University of Tennessee College of Medicine and its participating teaching hospitals are fully committed to the education of health care professionals and providers. 
The College of Medicine provides the educational environment and opportunities to meet the needs of all medical residents and facilitate their professional, ethical, and personal development.  This is consistent with the college's mission to provide "a broad array of programs targeted at the education and training of physicians at the undergraduate, graduate and postgraduate levels."
The Board of Trustees, the College of Medicine Administration, and GME community are committed to and responsible for promoting patient safety and resident well-being, and for providing a supportive educational environment. The leadership of the College of Medicine Graduate Medical Education Program supports safe and appropriate patient care through appropriate curricula, evaluation, and resident supervision.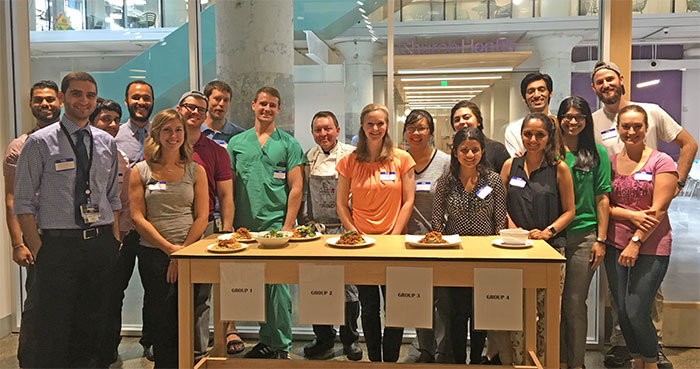 Culinary Medicine Continuing Medical Education Series
This series provides physicians and other health professionals with evidence-based information on dietary education for patients. Important nutrition concepts are taught through hands-on cooking classes in a way that helps participants understand the practical dialogue they can have with their patients about lifestyle change. The program helps translate the literature for use in your day-to-day practice.
Why Memphis?
Memphis is a city like no other. Nestled on the banks of the Mississippi River, Memphis is where starving actor Danny Thomas built a children's hospital (St. Jude Children's Research Hospital has helped increase the overall childhood cancer survival rate from 20% to more than 80%); Fred Smith started a small delivery service (FedEx now generates $60 billion dollars a year); the King of Rock 'n Roll chose to live (Elvis' Graceland sees 600,000+ visitors each year); and where you'll find USA Today's most iconic street (Beale Street has attracted fans from all over the world since the 1860s).  And, we were recently named one of the Best Places to Go in 2019 by Frommer's.
More city points of pride:
Memphis has been the inspiration for over 1,000 songs. We're pretty proud of our town and think once you experience Memphis, you will be, too.